smartLEDs OMEGA Exclusive – Stairway LED Lighting System
The most advanced smartLEDs  smart stairway LED lighting system. Magic and smart stairway LED lighting acivated by movement, with control from Android application.  2 styles of switching on/off: spectacular LED WAVE animation (one-by-one) or  simultaneously. Movement and dusk automation. 
The system is intended for intelligent and automatic control of multi-point LED lighting of stairs in LED lighting systems 12VDC / 24VDC with separate control of each lamp.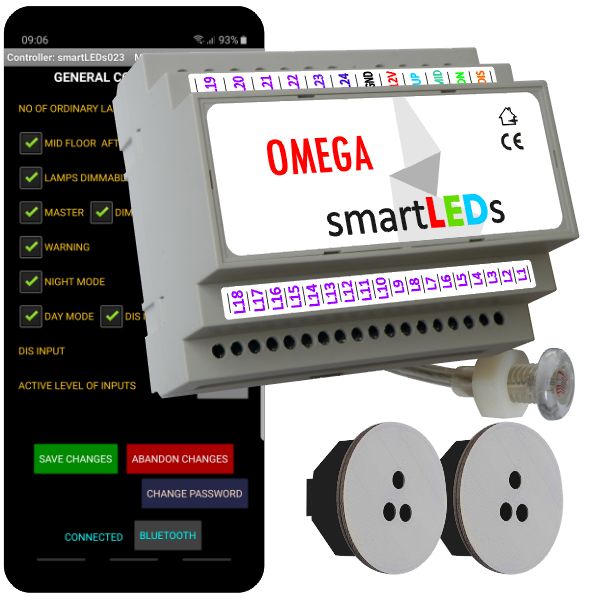 The basic version of the system includes:
Intelligent OMEGA LED stair controller (EXCLUSIVE model) with built-in dusk switch and real-time clock
Smartphone / tablet application for easy and intuitive controller configuration, operation and system diagnostics. Application is available for download from the Google Play store (minimum requirements: Android 5.0, BlueTooth Low Energy 4.0). More information: APPLICATION Tab and the Bluetooth website.
Hermetic light probe
Two smartLEDs DELTA  stair optical distance and motion sensors with a maximum range of up to 200cm, for installation at the bottom and top of the stairs, with mounting accessories.
NOTE: The offer does not include a smartphone/tablet.
NOTE: For testing you may download the app free of charge before purchasing the system.
Mounting accessories
flush mounting box Φ35mm or
adapter for Φ60mm electrical installation box
NOTE: The offer does not include a Φ60mm electrical installation box.
You can choose additional option of the system:
One or two sensors for installation on the mid-floor (MID1 and MID2), if there is an exit from rooms at the mid-floor level. These sensors are needed to detect movement from the mid-floor level.